A small island nation consisting of 115 islands scattered in the western Indian Ocean. Throughout much of our recorded history, our islands remained uninhabited until the 1770's. A history dating back to the fourth of the Portuguese India Armadas led by Vasco da Gama on 15 March 1503, although Seychelles was likely already known to Arab navigators and other sailors for many centuries based upon tomb discoveries.
Known for its pristine tropical vegetation, exquisite beaches and a brimming marine bio diversity.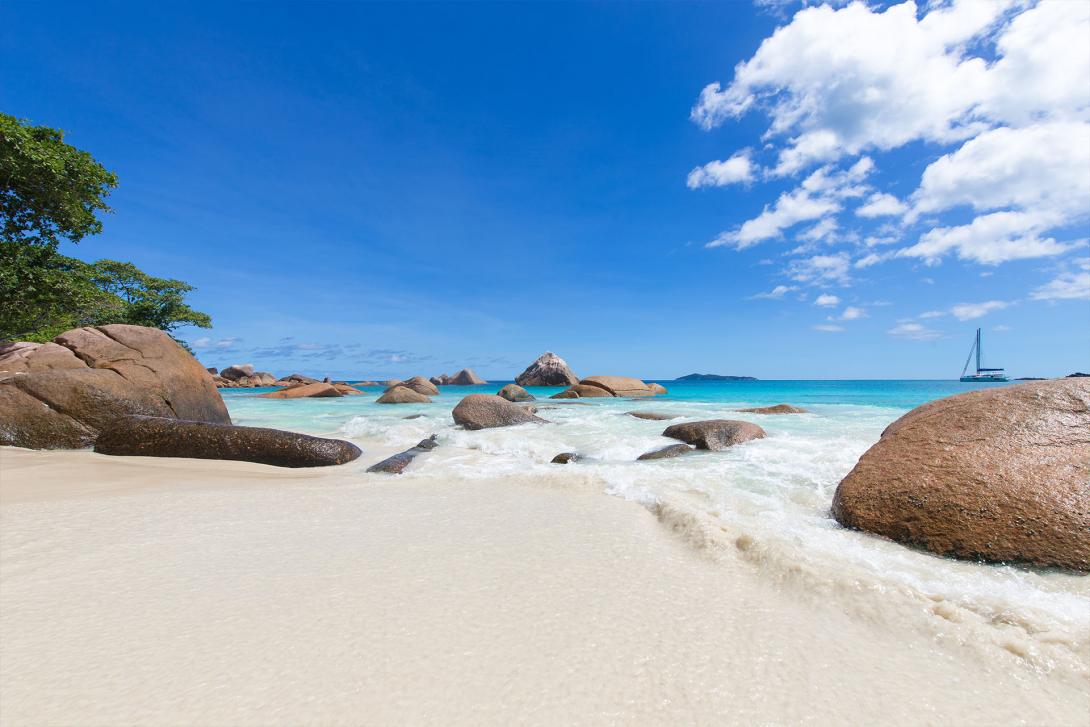 Seychelles remained uninhabited up until the French took control, henceforth the first settlers arrived in 1770, composed of 15 white men, eight Africans, and five Indians. Our Creole language developed by a need to communicate between the different races.  This short reign of the French lasted until 1794 when the British arrived and drew up the terms of capitulation, which led Seychelles to eventually become a republic of the Commonwealth of Britain in 1976.
Today Seychelles has a unicameral (having a single legislative chamber) parliament and a national assembly with 35 seats.
The Islands
The islands are segregated into two categories:
Inner islands group: Consisting mainly of granitic islands with lush green mountainous landscape
Outer islands group: The coralline islands are less populated and located further away from the main island, Mahe.
The four largest islands
Mahe
Mahe, the main island of the archipelago is home to Victoria the smallest city in the world, bordering 5 districts, where about a third of the population reside. Historical Victoria has many facets combining charming Creole characters with interesting spots.
The busy Fresh Market filled fresh fish brought in daily by the local fisherman and organic fruits and vegetables which are mostly grown locally. The little kaleidoscope of cultures also houses A Roman Catholic Cathedrals, An Anglican Cathedral, A Mosque and a Hindu Temple and all within walking distance from each other. This defines the coherence of deep respect between the different denominations.
Image
At the center of all attraction is the iconic Clock tower erected in 1903, in honor of her majesty Queen Victoria after her passing in 1901.
Despite its timeless charm, Mahe possesses a modern yet discreet infrastructure such as at Eden Island with its elegant marina and mall, consisting of various choice of restaurants and bars, hosting a vibrant nightlife.
The bustling port of Victoria, a favorite stop for renowned Cruise Ships. A commercial center and home to most retail outlets and governmental offices.
The islands virgin tropical rainforests along the rolling mountainsides, fringing pure fresh water cascades down to the different beaches where often the only footprints you will find will be your own.
On the Northern side of the island is the long stretch of Beau Vallon beach offering different types of water sports activities such as: surfing, water skiing, snorkeling, yachting, paragliding just to name a few, whereas Grand Anse beach along the Western coast is perfect for a horse riding experience or kayaking in its wetlands offers up-close encounters with nature in its most primeval state.
The south with its picturesque villages proposes a much subtler pace of life.
Mahe offers a wide choice of accommodation options in luxurious international 5-star resorts, boutique hotels, luxurious villas and attractive guest houses and self-caterings offering great value for money a stepping stone to the holiday experience of a lifetime.
Main attractions
Over 65 beaches to enjoy
Botanical gardens and other private gardens
Mission lodge
Museums in and around Victoria
Art Galleries
Eden Island
La Plaine St. Andre distillery ( Home of the famous Takamaka Bay Spirits)
Entertainment programmes of hotels, featuring live bands, local dance troupes, Moutya entertainers etc.
Restaurants and bars
Wellness Boutiques, Yoga & Meditation session
Main Activities
Big game fishing & Barbecue
Diving colorful underwater sites and marine life
Snorkeling the reefs with coral restorations trails and scenery
Sailing & Cruising - discovering the neighboring islands
Sunset cruise around the island
Guided hikes exploring the endemic flora and fauna
Rock Climbing / Zip lining
Spa & Wellness treats
Island hopping itineraries
Culinary Delights, barefoot dining
Visit to an art gallery or local artist's workshop
Hike to the rock pool in the south
Swimming in the waterfall
Praslin
Praslin, the second largest island's has many attributes, once known as Iles de Palmes, credited to its dense forest of coconut palms that prevented its greatest treasure the Vallée de Mai from being discovered earlier. Home to the mysterious Coco de Mer nut shaped in the exact form of the female pelvis, grows on ancient palms. The unique valley nurtures the world's heaviest seed, weighing between 15 and 30kg. Thought to have come from a tree beneath the ocean for many centuries!
When General Gordon of Khartoum visited the valley in the 18th century, he returned to London claiming that the Vallée de Mai was the original site of the biblical Garden of Eden. Today it is one of Seychelles' two UNESCO World Heritage sites.
Apart from its distinctive flora & fauna, Praslin is also home to some of Seychelles' most spectacular beaches while its small population and gentle pace of life makes it the ideal place for a laid-back holiday.
Image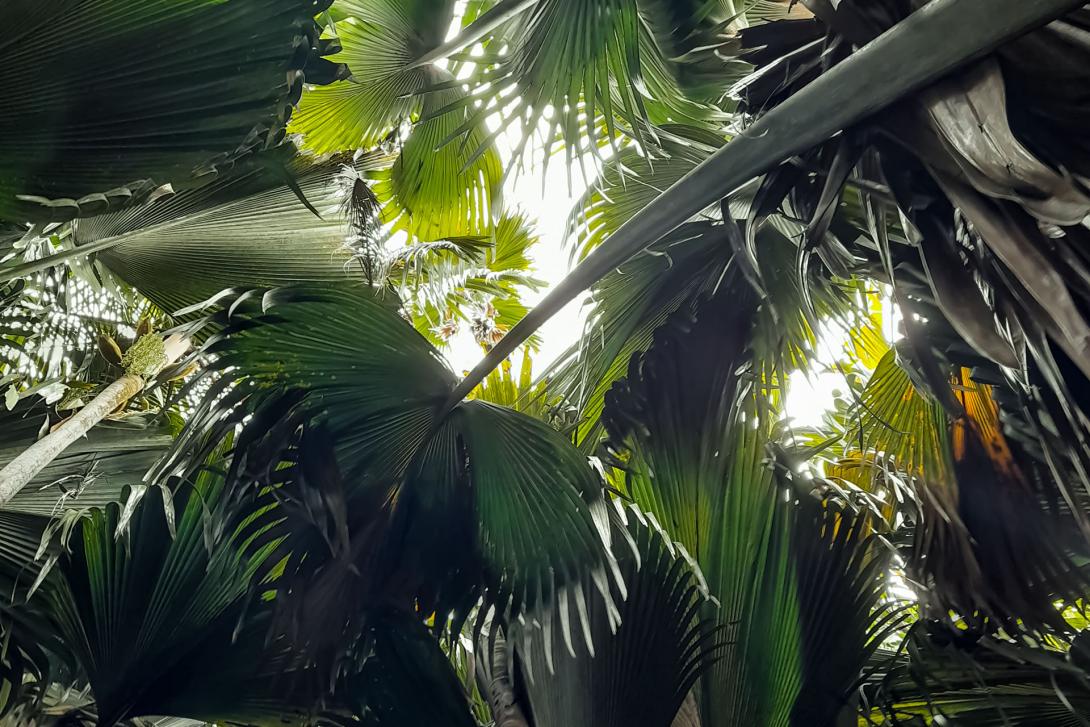 Accessible by boat, plane and helicopter, with two main towns Baie St. Anne where the jetty is located and Grand Anse where the Airport is situated. The island also possesses the only 18-hole championship golf course located at Constance Lemuria Resort.
Main Attractions
Valle de Mai
Anse Lazio and other spectacular beaches
Black Pearl Farm Gallery
Fond Ferdinand
Praslin Museum
Art Galleries
Restaurants and bars
Wellness Boutiques, Yoga & Meditation session
Main Activities
Big game fishing & Barbecue
Diving colorful underwater sites and marine life
Snorkeling the reefs with coral restorations trails and scenery
Sailing & Cruising - discovering the neighboring islands
Guided hikes exploring the endemic flora and fauna
Island hopping experiences around Praslin and to nearby islands: Coco; Sisters; Felicite; Cousin; Curieuse; St. Pierre and Aride
Restaurants and Bars, Golf at Constance Lemuria Resort's 18-hole championship golf course
Silhouette Island
The third largest granitic Island of the inner islands group is situated a mere 45 minutes boat ride north of Mahe Island, one of the richest biodiversity hot-spots in the western Indian Ocean. Silhouette National Park protects 93% of Silhouette Island's landscape.
Main activities:
Hiking
Fishing
Turtle hatching and monitoring
Tour of the island by boat
Snorkeling
Scuba diving
Yoga
Kayaking
Nature Walk
La Digue
La Digue, Seychelles' fourth largest island, is an epicenter of Seychelles' traditional slow paced creole-living way of life.
Named after a vessel of an early explorer, discovered in 1768, although the first settlement came about 30 years in 1798 by political refugees from Ile Bourbon, now called La Reunion Island whose remains lie in the ancient island cemetery. The island is accessible by boat, plane and Helicopter
It is widely believed that La Digue with its unwinding, laidback island ways is most typical of Seychelles' special brand of peacefulness.
Image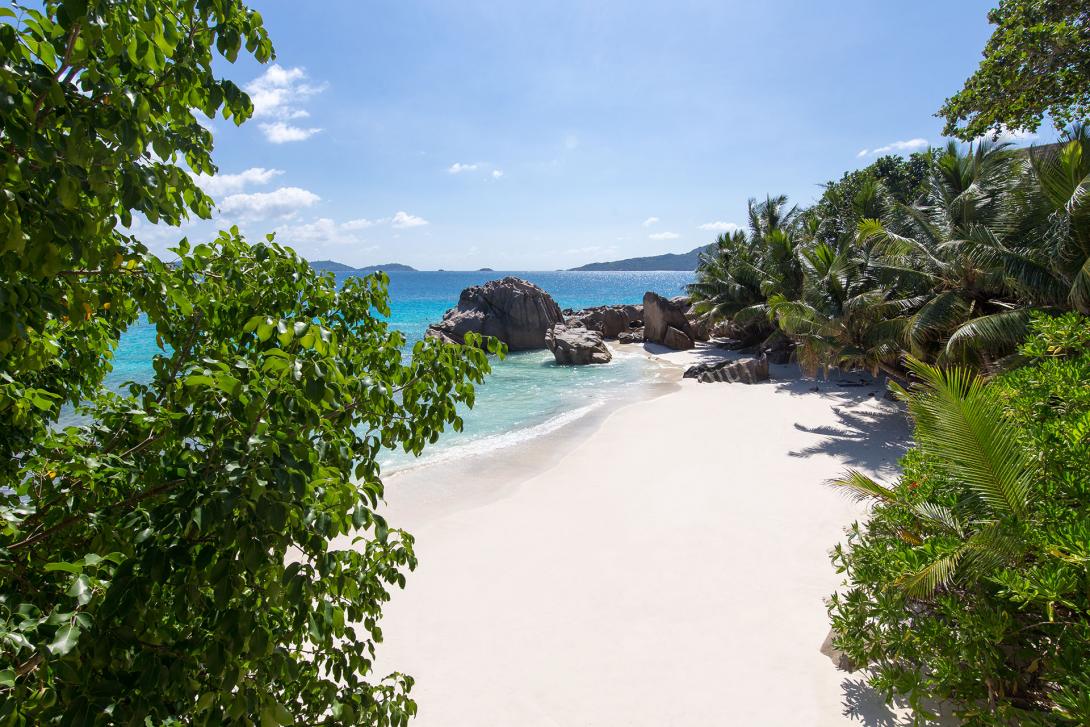 With a map in hand start your cycling adventure by rummaging through the narrow roads that wind their way around the island. The plateau area has a combination of residential dwellings and guest houses with few hotels.
The 'Veuve Reserve' is a sanctuary named after the endemic birds the 'Black Paradise flycatcher' which inhabit the area, found nowhere else in the world.
Main Attraction
Most see beaches, Anse Source D'Argent, Anse Coco, Grand Anse, Anse Severe
Island tour by bicycle
L'Union Estate and its historical cemetery
Veuve Reserve
French colonial style architecture
National Monuments, The Roman Catholic Church, Plantation House, the largest granite boulder on the islands
Visit Belle Vue and Nid D'Aigle – the highest point on La Digue
Boat Cruise or Sunset Cruise around La Digue's scenic coastline
Restaurants and bars, quiet nightlife
Crystal kayaking along the reefs
The Outer Islands
These atolls form part of the remote jewels scattered throughout the azure waters of the Indian Ocean, namely the Outer Islands of the Seychelles.
The Alphonse Atoll
Situated 400km southwest of Victoria, it is composed of three islands including Alphonse island, found in north of Alphonse Atoll and the small islands of Bijoutier and Saint François, situated on St François Atoll to the south.
Alphonse Island
One hour away by flight from the main island, in the midst of the Indian Ocean, you will find The Lodge. Due to its remote location, the islands of the Alphonse Group plays host to a variety of endemic vegetation, animal life and exquisite marine life that call the surrounding azure waters their home.
The sandy beaches and coconut forests make it a quiet retreat as well as breeding ground for a host of migratory seabirds and turtles. With over 130 bird species recorded, guests can expect glimpses of Red-footed boobies and frigate birds. The Island is also home to a small reintroduced population of Aldabra giant tortoises.
This atoll is excellent for:
Scuba Diving
Fly fishing
Whale spotting (A migrating route for some species of orcas)
Resident Pod of spinner dolphins
Turtle hatching and monitoring
Snorkeling with Manta Rays
Snorkeling with Sail Fish
Cosmoledo Atoll
The remote location makes Cosmoledo a place of wild natural splendor. Habitats include sand dunes, expansive flats, mangroves, grassland and a dramatically fluctuating lagoon. This unique combination creates a hotspot of biodiversity. Cosmoledo Atoll consists of various scattered islands and is home to large populations of endemic birds like boobies, terns, and Frigate birds. The lagoon and its sandy beaches are favored by large populations of Hawksbill and Green Turtles for nesting and a host of feisty fish species on the flats.
This atoll is excellent for:
Scuba Diving
Bird watching
Turtle hatching and monitoring
The eco-camp is situated on Wizard Island, consisting of 8 Eco Pods which offers comfortable and stylish accommodation with all the luxury amenities needed. With its commitment to the conservation, preservation and protection of the natural resources of Cosmoledo, this truly is where nature meets creative hospitality.
Astove Atoll
The islands of Astove and Charlotte that make up the atoll is located roughly 35 km south-west of Cosmoledo Atoll. The rugged terrains of Astove, holds coconut palms and mangrove forests in the shallows. The undisturbed landscapes have seen the return of various bird species like Crab Plover and Caspian Tern along with other migratory waders and breeding seabirds.
The island also holds a healthy population of Giant Aldabra Tortoises that are being monitored by the ICS Team. The surrounding waters and the colorful coral reefs that they hold plays host to a variety of curious and impressive marine animals.
This combined with the sheer drop-offs of "The Wall" and drastic fluctuations of the inner lagoon, create nutrient-rich currents which brings with it an assortment of sought-after fish species. The high number of species like Indo-Pacific Permit, Barracuda, Bluefin Trevally and the like, is what makes Astove such an incredible fishing destination.
The newly renovated Astove Coral House, ensures a unique experience as it only caters for a small number of guests per week. The House provides stylish relaxation with Creole dining and great service.
This atoll is excellent for:
Bird spotting
Big game Fishing
Turtle hatching and monitoring
Free-roaming Aldabra Giant tortoises
Reef flats expeditions and snorkeling
The Amirantes Atoll
Desroches Island
Located just 35 minutes away by flight, in the southwest of Mahé; 1,600 kilometres (1,000 miles) from the east coast of Africa in the outer Amirante Islands, a cluster of remote coral atolls that are considered some of the world's most pristine and untouched.
With 402 hectares (933 acres) edged by 14 kilometres (9 miles) of white-sand beaches as your personal playground to unwind. The long, encircling beach and beach-crest of Desroches are of national importance for both green turtle and hawksbill turtle, particularly on the south and northeast coasts.
There is nothing to distract you from tranquility, save for the sound of birds singing and an ocean breeze that invites you to come a little closer. The only resort on this captivating coral island in the middle of the Indian Ocean, where the beaches belong to no one and everyone at the same time. Rustic villas and bungalows spread all over the island are intimate retreats.
The atoll is excellent for:
Scuba diving
Surfing
Big Game Fishing
Turtle hatching and monitoring
Climate
Seychelles enjoys a pleasant tropical climate all year long: The islands lie outside the cyclone belt and there are no extremes of weather. The temperature seldom drops below 24 degrees or rises above 33 degrees Celsius.
During the north-west trade winds that blow between the months of October and May the sea is generally calm and the weather hot and humid. This is the best time of the year for diving and other water sports.
When the south-east trade winds blow, the weather is generally drier and cooler, with rougher seas, particularly on the eastern coasts. However short-lived tropical downpours can occur at any time of the year.
Entry/Exit Formalities
There are no visa requirements to enter the Seychelles. Documents required for immigration clearance: A passport valid for more than 6 months; Return or onward ticket; Proof of accommodation; sufficient funds for the duration of your stay.
Important notes for clients: -
Visitors are allowed to pay for meals and services or anything they use or purchase in the country in Seychelles Rupees. Visitors are encouraged to exchange their money at the bank or Bureau de Change and refrain from changing money with individuals who approach them.  Foreign currency exchanged at banks or bureau de changes during the visitors' stay can be exchanged back into the original currency upon departure.
Vaccination/Medications
Yellow fever, if traveling from a yellow fever endemic country. There is no risk of contracting malaria in Seychelles, given that the Anopheles Mosquito does not exist in Seychelles. Visitors suffering from a specific medical condition should be sure to bring an adequate stock of the appropriate medication packed in the original container.
Bio-Security
Please refrain from traveling with any animals and plants, including their products as invasive alien species may enter Seychelles via animals or animal products, plants, or plant products from abroad which can then turn into new pests and diseases.
These can seriously affect human health, posing significant threats to the delicate ecosystem and affect the local livestock and crop production sectors.
If necessary, please contact the Animal and Plant Health Services of the Seychelles Agricultural Agency regarding bio-security import procedures.
For more information, please contact:
Animal Health- Veterinary Services (+248) 4285950;
Email: pvo@gov.sc
Plant Health – National Plant Protection Office (+248)
4611477 Email: pppo@gov.sc
Drinking Water
Tap water meets W.H.O. (World Health Organization) specifications and is safe to drink nationwide. If you are concerned about drinking chlorinated tap water, several different bottled water brands are widely available in shops, restaurants and hotel bars.
Electricity
Throughout Seychelles, the voltage is 220-240 volts AC 50 Hz. Seychelles uses the British standard square three-pin, 13 amp short electric plug. Visitors from countries other than the United Kingdom are advised to bring their adaptors.
Safety
Seychelles has a low level of crime. Nonetheless, like anyplace else in our world, visitors must take precautions. We recommend that you utilize your room or reception safes to secure your valuables.
Always let someone know your whereabouts and the expected time of your return.
Do's & Dont's
Please do not litter. If there are no litter bins available, please take your litter back to your hotel and dispose of it accordingly.
Please do not collect seashells along the beaches as many are used as homes by the hermit crabs. Collecting shells is prohibited in nature reserves, marine parks, and reserves in Seychelles.
Any flora taken as souvenirs must have a certificate and an official export permit, which must be produced when checking in at the international airport.
Be considerate towards the fauna and sensitive to its sometimes fragile nature. Please walk carefully on the reefs and do not feed sea birds, mammals, turtles, or tortoises or disturb them or their nesting grounds
Suggested Packing List Documents
Passport
Flight tickets or e-ticket
Finalized tour documents with confirmation details and emergency contacts
Travel insurance confirmation information
Photocopies of vital records, including Covid-19 vaccination certificate.
Clothing & Shoes
Casual cotton wear for daily tours
Dinner wear: smart casual
Swimsuit
Hats for sun protection 
Comfortable, broken-in, supportive walking shoes or sandals
Dress shoes for evening
Athletic shoes for workouts (optional)
Prescriptions & extras
A sufficient supply of prescription medications in the original packaging, packed in your carry-on.
Kit with preferred over-the-counter medications for upset stomach, pain, allergies or motion sickness
Facial mask(s)
Preferred personal hygiene products, toiletries, and contact lens solution
Mosquito spray/lotion, Sunscreen protection (available in shops as well)
Antibacterial lotion/hand sanitizer
Miscellaneous:
Cash, debit and credit cards ( Master card / Visa)
Batteries and chargers for small electronics and phone
Sunglasses
Camera and memory cards
Plug adapter / Power cords for electronic devices
Power banks (for charging USB devices)
Helpful Tips:
Skip Plastic Bags: It can take 500 years for single-use plastic bags to biodegrade, so please leave them at home.
Stay On The Path: When hiking, please stay on marked trails and maintain a safe distance from any animals you may encounter. Creating your own path could mean you trample on protected or endangered plants.
Help Protect Our Reefs: Use a reef-friendly sunscreen, also known as "mineral sunscreen," this is a sun cream that doesn't have certain chemicals that will ruin your skin and the ocean. Look for this product as it becomes more readily available.